Allied Specialty Compounds (ASC)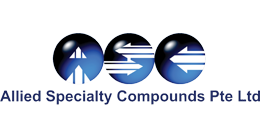 HQ - Singapore
ALLIED SPECIALTY COMPOUNDS is in a specialized compounding field focusing on high value, high temperature, conductive fibres and powders resins . Its application is predominantly in the electronic and electrostatic discharge control arena.
In addition, ASC has been producing tri-layer conductive sheets for carrier tape application in very large volumes since 2001. With such refined technology and equipment, its quality and grades rank in the upper echelon of similar industries.
Allied Specialty Compounds Pte Ltd
2304, Bedok Reservoir Rd,
#04-02 Bedok Industrial Park C,
Singapore 479223.
Tel : (65) 6243 2636
Fax : (65) 6243 5987
Email : info@asc.com